Guys & Dolls - July 19 - 29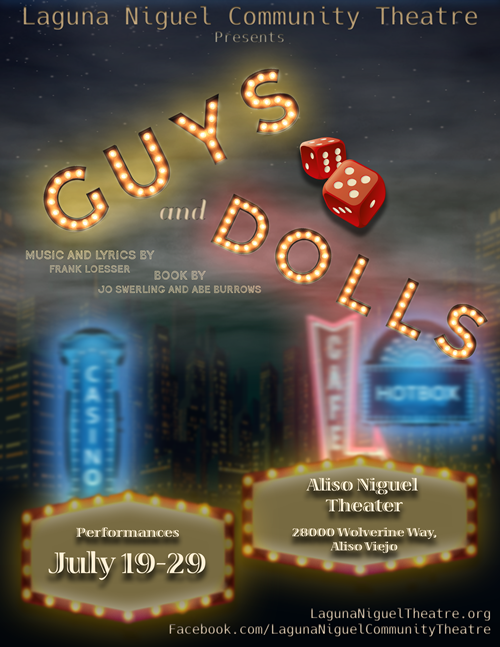 Laguna Niguel Community Theatre Presents: Guys and Dolls!
This Tony award-winning musical transports you to a world of big city gamblers & the women who love them in 1950s New York.
Nathan Detroit struggles to run his famous floating crap game; while Adelaide, his fiancee of 14 years and hot box dancer, has decided it's time to get married. Meanwhile, high-roller Sky Masterson falls in love with the puritanical mission worker after he takes a bet to seduce her and take her to Havana.
Tickets on sale June 1st
Play Dates:
Here are the show dates with times:
Thursday, July 19, 7:00pm
Friday, July 20, 7:00pm
Saturday, July 21, 7:00pm
Sunday matinee, July 22, 2:00pm
Thursday July 26, 7:00pm
Friday July 27, 7:00pm
Saturday, July 28, 7:00pm
Sunday matinee, July 29, 2:00pm